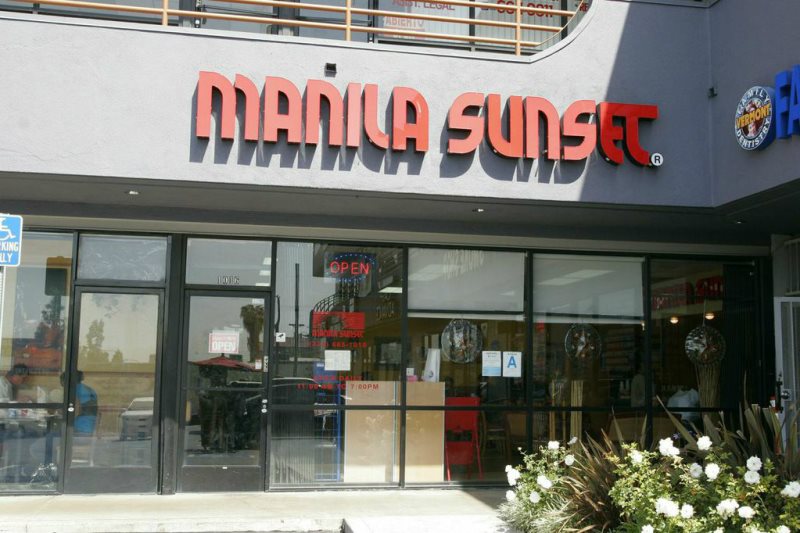 Sunset at Manila Bay evokes in the hearts of Filipinos in America, remembrances of home and the natural charms of the Philippine islands.
Manila Sunset derived its name from this beautiful Philippine scenery – for in many ways, the food of Manila Sunset evokes the same nostalgic feeling. They bring back the memories of old-fashioned homecooking and traditional celebrations: Pasko, Simbang Gabi, Flores de Mayo, weddings, homecomings and other joyous occasions.
Manila Sunset specializes in a few but unique and hard-to-find Filipino foods such as Bibingkang Galapong and Puto Bumbong which are traditionally found in church plazas and roadside stalls only during the Christmas Season. Our best seller, Pancit Malabon is prepared from an original well-guarded recipe from the fishing village of Malabon from which the name of the delicacy came from. Even in the Philippines, there are only very few cooks who know how to prepare this delicacy.
When Manila Sunset opened its first store on Sunset Boulevard in Los Angeles, California, in 1985, its limited menu was originally intended for Filipinos in America who have missed these foods for a long time. Soon, it gained the attention and approval, not only of Filipino-Americans, but also of other nationalities composing the multi-racial communities of California.
Manila Sunset is one of the very few Filipino restaurants included in Paul Wallach's Guide to Restaurant of Los Angeles and Southern California and Linda Burum's Guide to Ethnic Food in Los Angeles.
Manila Sunset also earned favorable reviews from the Los Angeles Times, Orange County Register, Pasadena-Star News, the Hudson Magazine in New Jersey, and various Filipino-American newpapers and magazines. Manila Sunset was recently honored with Manila-U.S. Times Eagle Award of Excellence as "Restaurant of the Year".
WELCOME to Manila Sunset. We cannot promise to give you the grandeur of the famous sunset at Manila Bay, but only the authentic taste of the Philippine cuisine and the country's legendary hospitality.
Visited 1554 times, 1 Visits today