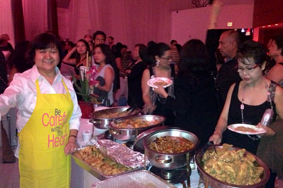 What do you do if you have a lot of mouths to feed at home, at work, or some social function? When cooking is not an option because of work, schedule constraints, and other personal reasons, the United States has tons of takeout or delivery places. But it shouldn't be just any place. When it comes to food for your home or guests, you need someone you can trust.
In Southern Los Angeles – specifically in Eagle Rock or anywhere near — you can order some "fast food." But just not from any typical fast food chain. Fiesta Fast Food offers its customers delectable, home-cooked Filipino-Chinese food with the convenience and affordability of a fast food restaurant, and they've been in business for over 25 years.
Once known as Lady Luck Fastfood and Deli, this family-owned business has served hungry Filipinos (and non-Filipinos) since 1987. They pride themselves with their own version of the Crispy Fried Chicken, which, according to reviews, are well-seasoned and cooked to perfection. Other specialties include Lumpiang Shanghai (Eggrolls), which are perfect for a quick bite, and Turon (Fried Banana Rolls) if you're craving for dessert. You may also order timeless Filipino favorites like Adobo, Pastel, Pochero, and Pancit — all of which are made of diverse ingredients, unlike selections from typical fast food joints.
You have the choice to buy in small or large portions depending on what you need. The latter is perfect if you have a big family and your schedule is swamped, as this can leave you with enough food for the week. All you have to do is order by phone in advance. Even with the big servings, food is reasonably priced. When you pick up your food, you will be welcomed by staff members who exemplify the famous Filipino hospitality – another plus for customers.
For those hosting an event, like an upcoming celebration or a function at work, Fiesta Fast Food also caters. They're available for all sorts of occasions, whether they're set indoor or outdoor. They live up to their name and will turn any event into a grand fiesta. Even celebrities from top Philippine networks like ABS-CBN and GMA, and influential political figures swear by the California-based caterer. This also tells you of their extensive experience catering at bigtime events.
Going back, satisfying the hunger of big groups can be a chore for a lot of people. Fortunately for the people of Los Angeles, there's Fiesta Fast Food. So give this unique Filipino fast food place a shot and discover why Filipinos in California run to them to feed their families and loved ones.
You can find their menu and other information at their website at http://www.fiestafastfoodla.com/ and helpful reviews online. Check out their store at:

Fiesta Fast Food
5532 York Boulevard
Los Angeles, CA 90042